How to Prepare for Rhinoplasty?
Dr Rajat Gupta
Rhinoplasty is a surgical procedure that alters or corrects the contour of the nose. It can be done for aesthetic purposes or to deal with breathing issues. Rhinoplasty can solve problems by changing the skin surrounding the nose, cartilage, or bone.
Every form of surgery necessitates that you take certain precautions to ensure that your treatment goes as efficiently as possible. In addition, doing or avoiding certain things will help you heal faster while lowering your chance of complications.
Preparation for rhinoplasty is precisely what it seems like. We strongly advise you to prepare for your rhinoplasty surgery in Delhi ahead of time.
Preparatory Instructions for Rhinoplasty
Maintaining your health and fitness is essential to guarantee that the healing process goes smoothly and doesn't take any longer than necessary. Prepare for a safe and smooth surgery by knowing how to prepare for rhinoplasty.
Two weeks before surgery
Your rhinoplasty preparation process starts two weeks before the procedure. You won't have to rush at the end if you get an early start.
Rhinoplasty is a same-day procedure, often known as an outpatient procedure. You'll be able to go home after the surgery and have a small period of supervision to ensure you're doing well. Plan ahead of time and ensure you have a dependable ride available after rhinoplasty surgery in Delhi.
Stop consuming alcohol two weeks before surgery since it is unhealthy for your immune system and can dehydrate you.
Avoid smoking since it can lengthen your recovery and raise your risk of post-surgical complications.
Dr Rajat Gupta strongly advises discontinuing all herbal supplements two weeks before surgery. Herbal supplements might have a detrimental interaction with anaesthesia.
Dr Rajat Gupta, the Best rhinoplasty surgeon in Delhi, advises against taking aspirin or ibuprofen. These medications disrupt the body's normal blood coagulation capacity.
One week before surgery
Since your body needs extra energy to mend and recover post-surgery, it is important to get adequate rest a week before the procedure. A couple of days off from work is also suggested to prepare for the surgery.
Because your nose will be bandaged after rhinoplasty, you cannot go out; thus, it is recommended that you shop for groceries and required drugs a few days before the surgery.
To prepare your face for rhinoplasty, clean it twice a day with a suitable facewash and apply a moisturiser soon afterwards. Note that you won't be able to wash your face or use face creams for many days following rhinoplasty, so it's best to take care of your skin before the procedure.
Dr Rajat Gupta, the best plastic surgeon in Delhi, recommends you keep your skin hydrated.
Night before surgery
Bath the night before the rhinoplasty since you cannot bathe for three to four days following the procedure.
Rhinoplasty is performed under general anaesthesia; thus, you should fast for eight hours before the procedure to avoid anaesthesia-induced gastric difficulties.
Day of surgery
Please do not wear cosmetics, jewellery, or perfume on the day of your surgery since they might aggravate the procedure. t is also advised that you wear a shirt with buttons or a loose and comfortable T-shirt.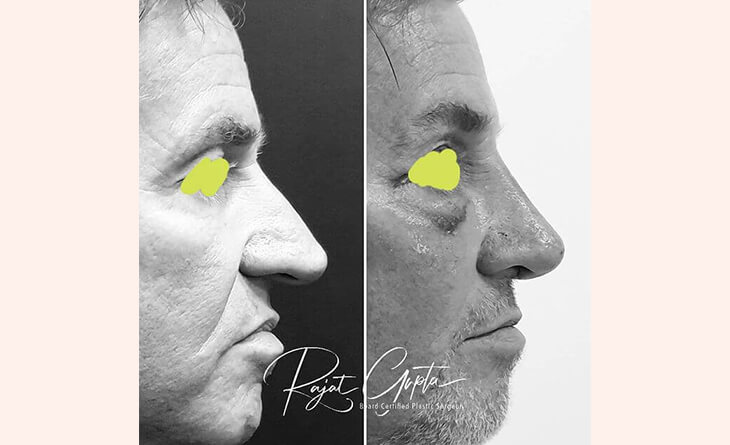 Have questions or want to get started? We are ready to help you with a smile!
Conclusion
It is essential to take every operation seriously to reduce risks and enhance outcomes. A healthy recovery depends on preparing your body and mind ahead of time. We understand that each patient has specific requirements. Dr Rajat Gupta has considerable expertise in rhinoplasty surgery in Delhi and assisting patients in preparing for successful procedures.

Dr. Rajat Gupta
MBBS, MS, DNB(Gen. Surg.),
DNB (Plastic Surgery)
Dr. Rajat Gupta is a board certified plastic surgeon in India with 13 years of experience to back his expertise in the domain of aesthetic surgeries.
Having completed his training from Maulana Azad Medical College and equipped with a thorough understanding of aesthetic needs of people, Dr. Gupta strives to offer the best remedies and cosmetic procedures outfitted with the latest technology to the aspirants in India and across the globe. To book an appointment, call: +91-9251711711 or email: contact@drrajatgupta.com