What's it Like to Have an Upper Eyelids Blepharoplasty ?
Dr Rajat Gupta
It's rarely possible to look at a person without initially noticing their eyes. While many essential face traits can contribute to someone's attractiveness, eyes are particularly profound when it comes to determining raw beauty. Nonetheless, who knew it could be a matter of concern too?
This blog will talk about how excess skin on eyelids can be bothersome and how upper eyelid blepharoplasty can help you cure it!
Excess fat on the upper eyelid can cause it to droop and seem heavy. This gives you a continuously sleepy and jaded appearance. It also makes the eyes appear smaller, despite their real size remaining the same. Similarly, blepharoplasty or upper eyelid blepharoplasty surgery will not affect the size of the eyes. However, it might make the patient's eyes appear larger, and when it comes to reviving the youthful glow in your eyes, this might make a huge difference.
What is upper eyelid blepharoplasty surgery?
Blepharoplasty of the upper eyelids is frequently used to expand the eyes. As people become older, more fat and muscle accumulate in the upper eyelid, weighing it down. This causes the eyelid to partially close and reduces the patient's inherent vision.
This disability might also be due to a disorder known as ptosis. Ptosis is a condition in which the upper eyelid muscle is stretched. As a result, it begins to droop towards the pupil, impairing the patient's eyesight.
Excess fat and stretched muscle are both resolved with upper eyelid blepharoplasty. After administering local or general anaesthesia, your surgeon will carefully make incisions along the upper eyelid fold. Any scars that emerge from this implantation are effectively hidden. Your surgeon will remove the unwanted fat and skin through these incisions. The leftover fat and muscle are sculpted for a tighter, more attractive appearance.
The removal of the excess weight makes the eyes appear larger, despite their size and shape remaining the same. Your surgeon merely shows what they are intended to appear like, relieving your face of the continual weariness that your eyes seemed to carry.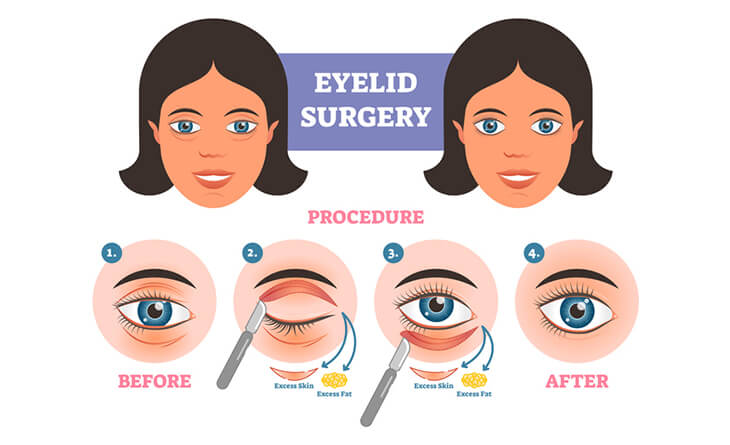 Have questions or want to get started? We are ready to help you with a smile!
Upper Eyelid Blepharoplasty Cost
The cost of upper eyelid blepharoplasty is one of the most frequently requested concerns by patients. Like other plastic operations, this question does not have a single solution. Several factors determine the cost of blepharoplasty in Delhi:
Your Surgeon's prior experience
The Centre where the surgery will be performed
The advanced techniques and tools used by the surgeon
Upper eyelid surgery is one of the most demanding and complicated surgeries; hence the cost should be the secondary concern to attain the desirable results safely without any complications post-surgery.
Your objectives should be in line with your surgeon's vision for you. Dr Rajat Gupta of RG Aesthetics discusses what to expect from upper eyelid blepharoplasty in your first appointment so that you are prepared for the surgery and the outcomes you desire!

Dr. Rajat Gupta
MBBS, MS, DNB(Gen. Surg.),
DNB (Plastic Surgery)
Dr. Rajat Gupta is a board certified plastic surgeon in India with 13 years of experience to back his expertise in the domain of aesthetic surgeries.
Having completed his training from Maulana Azad Medical College and equipped with a thorough understanding of aesthetic needs of people, Dr. Gupta strives to offer the best remedies and cosmetic procedures outfitted with the latest technology to the aspirants in India and across the globe. To book an appointment, call: +91-9251711711 or email: contact@drrajatgupta.com