Ear Lobe Repair Surgery: Getting Ear Back In Shape!
Dr Rajat Gupta
Do you avoid wearing big traditional earring due to stretched or torn earlobe? Have you noticed that earlobe piercings enlarge over time? Are you fed up of wearing a light pair of stud earrings, even if they are not matching with your dress, at every party?
If answers to these questions are "Yes " for you, then you are not alone. It is common to have the enlarge earlobe piercings after a certain age. Especially In India, women wear heavy earrings that can tear/elongate earlobe. But don't worry; stretched ear holes can be repaired. Ear Lobe Repair surgery or Lobuloplasty is a reconstructive procedure that can repair the damage of your ear lobes that is torn or stretched due to ear tearing, or piercing or gauges. Dr. Rajat Gupta at RG Aesthetics, a well-known plastic, cosmetic and reconstruction surgeon talks about the procedure and benefits of Ear Lobe Repair surgery. He has performed a range of corrective procedures, including split/torn earlobes.
Who and when to go for ear lobe surgery?
The women with elongated or torn portion of puncture can opt for this surgery.
The people with extraordinary big earlobe can go for the surgery. You might know that some industries and certain professions actually forbid hiring people who do not have an ordinary earlobe.
You can immediately opt for reconstruction of the earlobe or lobe correction surgery.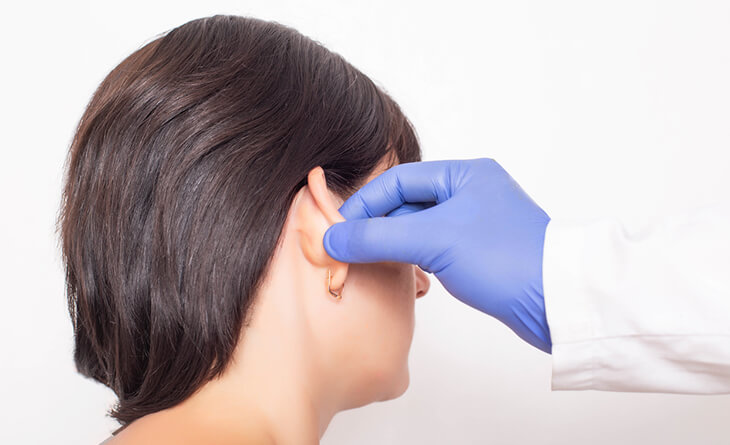 Have questions or want to get started? We are ready to help you with a smile!
Procedure of Earlobe Repair
An earlobe repair surgery is a simple process that results in mild scarring but most patients are able to continue wearing their jewelry after the earlobe has healed completely. Split earlobe surgery may take about 5-10 minutes per earlobe. However, fixing gauged earlobes are more complex. Local anesthesia is used for this procedure. It takes between 20-30 minutes per side. An incision is made in the earlobes and then stitched to repair the affected area.
Healing Process
The healing time is about a week. Surgeons prescribe painkillers to subdue the pain during the first few days. It is advisable to quit smoking for few weeks for the fast healing process. After recovery, the patients may re-pierce their earlobes after 12-16 weeks.
The earlobe occupies a special position among facial structures especially when it comes wearing decorations and jewels on it. The increase treads of ear piercing in both females and males have resulted in more and more requests for ear lobe repairs.  By reducing the size of the earlobe you can achieve more youthful ear.
RG Aesthetics offer surgical, non-surgical cosmetic treatment, laser treatment with a focus to give natural looking results to all its patients. It offers solutions for all cosmetic treatments from head to toe, under one roof, with advance machines and well-equipped operation theaters.

Dr. Rajat Gupta
MBBS, MS, DNB(Gen. Surg.),
DNB (Plastic Surgery)
Dr. Rajat Gupta is a board certified plastic surgeon in India with 10 years of experience to back his expertise in the domain of aesthetic surgeries.
Having completed his training from Maulana Azad Medical College and equipped with a thorough understanding of aesthetic needs of people, Dr. Gupta strives to offer the best remedies and cosmetic procedures outfitted with the latest technology to the aspirants in India and across the globe. To book an appointment, call: +91-9251711711 or email: contact@drrajatgupta.com