Complete Guide to Facelift
Dr Rajat Gupta
Our bodies' exposed area is the face. Some types of clothing can obscure every other body feature. The face, however, cannot. You can't keep your face hidden your entire life. Additionally, it is how people identify you.
Signs like drooping skin are something you cannot avoid. Where do these characteristics first appear? You made a good estimate if you identified the face. – Keep reading to learn about different facelift surgery procedure.
There is never a good time to stop learning about how the body ages. You can regulate these factors even though your well-being may suffer and you may be more prone to weight gain. You may keep healthy and fit by exercising regularly and eating a nutritious diet.
Facelift Process – Ideal Facelift Surgery Procedure!
In cosmetic surgery, a facelift, the outward indications of maturing in the face and neck are improved. It rejuvenates the neck, cheekbones, and ageing jaw's gorgeous bone structure.
The ideal candidate for a facelift has a well-defined structure but loose, sagging skin on the face brought on by ageing or drastic weight reduction. They also need to be in good health and not a smoker, and the best outcomes are only obtained after that. Many people equate facelifts with excessively tight-looking skin and wacky outcomes that do not fit the patient.
However, the purpose of a facelift surgery procedure is to improve facial features and restore your young shine. Nevertheless, this should always be done while considering the potential effects. Nothing should make a face appear stretched or odd, and it must be very alluring and only highlight and depict the facial contours.
We'll let you in on a little secret about the optimal facelift procedure: the key component is the facial muscles. We already established that the goal of a facelift is to tighten the facial structures. You could imagine that this entails tightening the skin directly. But it is not the case. Always select a surgeon who does not restrict the skin when deciding, and they ought to concentrate on the SMAS layer underneath instead.
The musculature directly under the face's skin is known as the SMAS (superficial muscular aponeurotic system). This is what becomes loosened and needs to be tightened. Skin that is too much is possible, but that is only a sign, and it's not what caused it.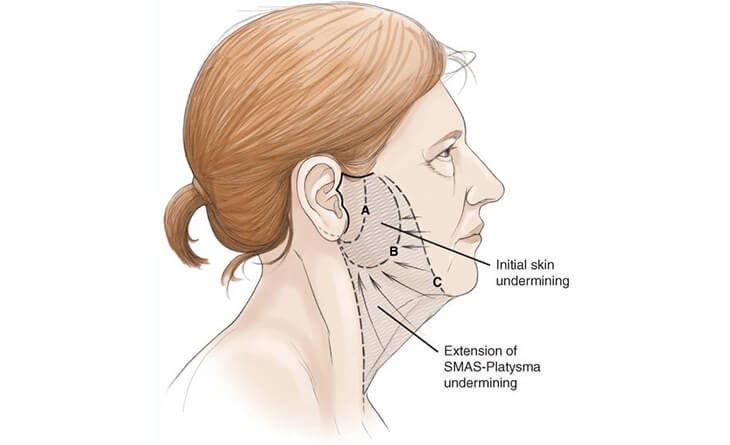 Have questions or want to get started? We are ready to help you with a smile!
Mini vs Full facelift
A mini facelift is a wrinkle-reduction technique to address sagging muscles and skin on the lower face and neck. Nearly everything is small when using a mini facelift surgery procedure, and the cut is less extensive. Consequently, the recuperation period is shorter. The only thing about this technique that is not small is the outcomes; they have almost as much drama as a complete facelift.
The areas targeted are the main distinction between a micro facelift and a regular facelift. A complete facelift concentrates on the bottom two of the face and neck, whereas a tiny facelift concentrates on the neck and the bottom third of the face.
What to anticipate after a mini facelift surgery procedure?
The depth of the repair you're seeking and whether you're also undergoing additional aesthetic procedures greatly impact how long your surgery takes. This process takes about two hours on average, and the complete facelift procedure typically takes place in between 2 to 4 hours.
This surgery focuses on tightening the residual skin, raising the lower face, and lifting your neck muscles. Excessive neck muscles and skin are also removed. Following your cosmetic objectives, we may reshape your cheeks, lift drooping cheek skin, restructure the tissue surrounding your jawline to give it a more manly or feminine appearance, and remove extra fat.
What to Expect Throughout a Full Facelift?
The treatment begins with cleaning the face and neck using an alcohol-based cleanser to reduce the possibility of infection. We will put you under general anaesthetic to make you feel at ease throughout the treatment. After you've fallen unconscious, we'll make an incision surrounding your ears that goes to the back of your hairline.
Additionally, a short incision will be made under the skin. The muscle and ligament tissue beneath your skin's epidermis will be reorganised and tightened. We will eliminate extra neck skin and fat if a complete facelift surgery procedure is combined with a neck lift. Despite the incisions' length, they won't be visible after being stitched with skin adhesive.
Types of Facelifts
The two most common types of facelifts are discussed above. Let us go through the other types of facelift surgery.
Skin Only Facelift
The skin-only facelift (also known as cutaneous) raises only the skin on your face, as the name suggests. It is a superficial facelift that does not lift the SMAS or the facial muscles. The cutaneous facelift overlooks the lifting of the SMAS, the most crucial component of a facelift, by just raising the skin. Skin-only facelifts offer slightly gratifying short-term effects that are not equivalent to a full facelift because the laxity and weakening of the SMAS is the main cause of facial sagging.
Deep-plane Facelift
Deep plane facelifts are the most intrusive type of facelift surgery procedure, commonly known as composites or subperiosteal lifts. The tissue underlying the SMAS is extensively dissected during this surgery. A deep plane facelift could cause damage to the numerous blood vessels, nerves, and other tissues flowing in the deeper layers of your face. The only benefit of a deep plane facelift is that it provides a little bit more cheek lifting.
Mid-facelift/ Cheek Lift
The cheek lift is ideal for men or women who merely wish to address sagging cheeks (nasolabial folds). A cheek lift is a specific facelift intended to raise and plump your cheeks, and a mid-facelift does not address droopy jowls, drooping neck skin, and other neck areas. So this procedure is for you if all you want is big cheekbones.
Liquid Facelift
A liquid facelift is a non-surgical approach to revitalise your face, using injectable dermal fillers. Dermal fillers will be injected beneath the skin of your face by your surgeon to smooth out wrinkles and add volume. Dermal fillers can shape your face and accentuate your cheekbones, making you look tight and young. A liquid facelift will smooth out any creases surrounding your lips, eyes, cheeks, temples, and jowls and fight to age. Dermal fillers can also enhance and shape your lips, cheekbones, and even chin to your liking.
Nevertheless, people with mild to severe ageing symptoms should avoid liquid facelifts. A liquid facelift is hard to produce gratifying results if you have extra skin lowering your jawline, and liquid facelift cost depends upon your surgeon's expertise and competence.
Thread Lift – Non-surgical Rejuvenation Facelift Procedure!
Yet thread lifting is another non-surgical option to the conventional facelift that has been gaining favour. Outstanding outcomes are available to individuals with mild to moderate ageing (minor sagginess, soft creases, sagging jowls, and hollow cheeks). You can get a thread lift to make your face fuller and tighter and smooth any wrinkles.
A thread lift is substantially less intrusive than surgical facelifts, which means it takes much less time to do and recuperate from. The procedure is often carried out under local anaesthesia, and a specific set and suture lines from various brands are used to do a thread lift. Your skin is punctured, the deeper fat planes of your body are reached, and the needle is subsequently pulled out of your body.
The thread is tightly pulled to smooth the skin and raise the underlying tissue. These threads are created to maintain their position firmly and dissolve after a few months. Nevertheless, they will activate your body's normal healing process during this period to add more collagen to your face and assist in reversing the effects of ageing.
Brow Lift lift or Forehead Lift
In that procedure lifts the key section of your face—your forehead—a brow lift is essentially a form of facelift. For certain individuals, a brow lift may be a good addition to their facelift procedure because the various facelift procedures do not treat the eyelids and the forehead. A brow lift removes folds and wrinkles from the forehead and raises the top eyelids to give you more attentive eyes.
Although there are other brow lifting methods, the "coronal lift" is the most frequently used. Your forehead hairline is cut horizontally, and Sutures are used to hold the pulled-up subcutaneous tissue in place. Fine sutures close the incision after the skin is drawn taut, and any extra tissue is eliminated.
Endoscopic Facelift Procedure
An endoscopic facelift procedure aims to tighten and rearrange your inner facial muscles and tissue to attain a more youthful appearance. The treatment is most effective at resolving problems since it focuses on the upper and middle parts of the face. However, areas of loose, extra skin, like those with significant
jowling and regions of loose skin all along the chin or jawline, are not targeted by the endoscopic facelift.
Summing Up!
Dr Rajat Gupta guarantees that all his patients receive the outcomes they deserve because of his extensive cosmetic and corrective procedures training. He constantly follows the patient's natural contours because he is aware of the emotional strain that ageing can bring.
He also follows international guidelines for patient care, which makes for a lot faster and more pleasant recovery of facelift surgery procedure. He always keeps his patients' expectations modest while consistently exceeding them by being open and honest with them about the outcomes they might anticipate.

Dr. Rajat Gupta
MBBS, MS, DNB(Gen. Surg.),
DNB (Plastic Surgery)
Dr. Rajat Gupta is a board certified plastic surgeon in India with 13 years of experience to back his expertise in the domain of aesthetic surgeries.
Having completed his training from Maulana Azad Medical College and equipped with a thorough understanding of aesthetic needs of people, Dr. Gupta strives to offer the best remedies and cosmetic procedures outfitted with the latest technology to the aspirants in India and across the globe. To book an appointment, call: +91-9251711711 or email: contact@drrajatgupta.com