How Long Does a Facelift Last?
Dr Rajat Gupta
Facelift surgery is one of the most well-known methods for facial rejuvenation, which has a longstanding reputation. The surgical facelift offers the most reliable, efficient, and long-lasting results despite all the developments in minimally invasive procedures, which typically have temporary, effective outcomes, if performed by an expert Face lift surgeon in Delhi.
Different approaches have been used to create the technique. A facelift can slow down the visible signs of age on the face, but it cannot stop the body and face from ageing naturally. It has been widely believed that a facelift's results typically last for about 10 years. But various variables come into play, including the facelift technique employed and how successfully the tissues are elevated to a more young shape.
Which facelifting method performed by a Face Lift surgeon in Delhi increases long-term survival?
There is no denying that results from minimally invasive procedures do not persist as long. For instance, a mini-facelift won't physically restore all the deeper facial tissues to their earlier positions. Therefore, using only the bare minimum of approaches results in minimal longevity. Their appeal stems from the fact that recovery times are typically shorter, allowing for a faster return to the workplace and normal activity. Some patients may, in fact, only have very few signs of facial ageing, in which case the patient might not seek a more involved Face lift surgery procedure.
Similar to this, methods that work to elevate the deeper tissues, like the SMAS layer, more effectively produce better outcomes and last longer. This is so that the deeper tissues, which have sagged, can be supported by these procedures, which attempt to physically return the tissues to their more young posture as opposed to simply tightening the skin, which can quickly relax again and fail to sustain the weight of the underlying tissue. The facelift is counted as the best plastic surgery in India. Now let us understand how to get the finest results.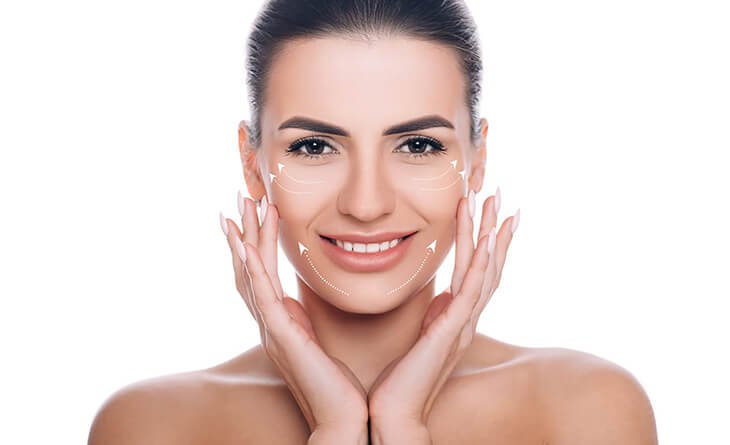 Have questions or want to get started? We are ready to help you with a smile!
Results Post Face Lift Surgery
The finest face lift surgery procedure outcomes frequently stem from a comprehensive study of the face and personalising the surgery to each patient's specific signs of ageing rather than just one technique. This could imply that a new kind of facelift treatment and supplementary therapies may be needed to maximise the outcome. These could involve neck lifts, chin liposuction, fat transfer, eyelid surgery, or browlifts.
How to keep your facelift results looking good?
Two of the most crucial things to do to slow down the ageing of the face are to avoid smoking and the sun. Both of these lead to skin thinning and laxity, which result in the appearance of facial wrinkles. Maintaining a healthy weight is also crucial because losing weight too quickly and excessively can lead to facial fat loss, which highlights the emptiness of an ageing face and causes additional tissue slackness.
Fat transfer is frequently combined with facelift surgery to improve the outcomes, much like dermal fillers are, except that fat transfer is now more likely to last longer.
Choose an experienced surgeon with countless successful surgeries like Dr Rajat Gupta for best plastic surgery in India. You can be sure of getting long-lasting positive results with no risks associated with the facelift surgery procedure.

Dr. Rajat Gupta
MBBS, MS, DNB(Gen. Surg.),
DNB (Plastic Surgery)
Dr. Rajat Gupta is a board certified plastic surgeon in India with 13 years of experience to back his expertise in the domain of aesthetic surgeries.
Having completed his training from Maulana Azad Medical College and equipped with a thorough understanding of aesthetic needs of people, Dr. Gupta strives to offer the best remedies and cosmetic procedures outfitted with the latest technology to the aspirants in India and across the globe. To book an appointment, call: +91-9251711711 or email: contact@drrajatgupta.com