Who Should Not Get Upper Eyelid Surgery?
Dr Rajat Gupta
Upper eyelid surgery, or blepharoplasty, is a common cosmetic procedure used to improve the appearance of the eyes. Upper eyelid surgery in Delhi (blepharoplasty) is a cosmetic technique that removes extra skin and fat from the upper eyelids. It can enhance eyesight, decrease puffiness around the eyes, and give a more youthful appearance.
While it can significantly benefit many people, it is not suitable for everyone. In this blog, we will discuss who is not an ideal candidate for upper eyelid surgery.
Who is Not A Candidate for Upper Eyelid Surgery?
People who should generally avoid or carefully consider upper eyelid surgery include:
1- People with Certain Medical Conditions: People Who have chronic dry eye, hypertension, circulation disorders, thyroid disorders, diabetes, glaucoma or heart disease are not suitable for upper eyelid surgery.
Dry Eyes: Upper eyelid surgery can worsen dry eyes, leading to eye discomfort or inflammation.
Hypertension: Hypertension can make surgery more difficult and risky.
Diabetes: Diabetes can increase the risk of infection and poor wound healing after blepharoplasty surgery.
Thyroid: The thyroid can cause the eyes to bulge, which can increase the post-surgery complication.
Heart Disease: Eyelid surgery is performed under anesthesia. Heart disease increases the risk of complications from surgery, including anesthesia problems and heart attacks.
Glaucoma: Glaucoma is a group of eye conditions that can damage the optic nerve and lead to vision loss. Eyelid surgery can increase intraocular pressure, which can harm people with glaucoma.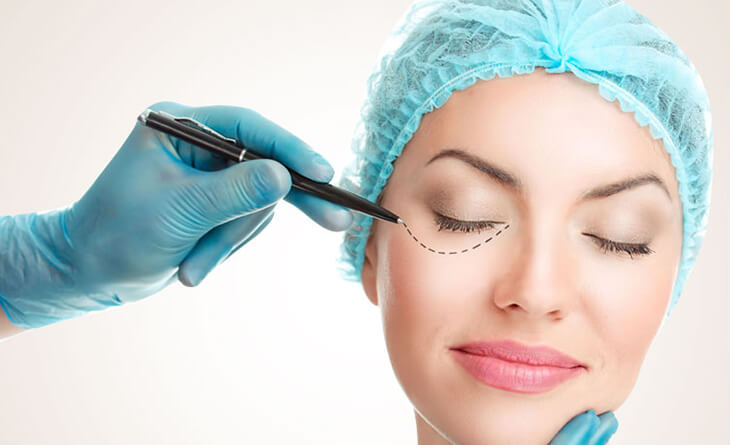 Have questions or want to get started? We are ready to help you with a smile!
2- Active Smokers and Those with Certain Lifestyle Habits: Smoking and certain lifestyle habits, such as excessive alcohol consumption, might impair recovery and raise the risk of problems after surgery.
3- People Taking Medications: People taking certain medications like blood thinners or anti-inflammatory medicines should consult their doctor before opting for upper eyelid surgery in Delhi. These medications can increase the risk of bleeding during and after surgery.
4- Pregnant or Breastfeeding Women: Cosmetic procedures, including eyelid surgery, are not recommended for pregnant or lactating women. During pregnancy and nursing, hormonal changes can impact healing and recovery. It is best to postpone these procedures till after pregnancy and breastfeeding.
5- People with Unrealistic Expectations????: Upper eyelid surgery can improve the appearance of the eyes; however, it may not result in dramatic or unrealistic changes. During the appointment, understand the procedure's limitations and discuss your expectations with the best plastic surgeon in India.
Furthermore, persons at risk of keloids (raised scars) or previous eye surgery should talk to their surgeon about the risks and advantages of upper eyelid surgery.
The decision to undergo upper eyelid surgery is a personal one. However, consulting a board-certified surgeon is essential to make informed decisions.
Upper eyelid surgery can provide significant aesthetic benefits for many people, but it's not a one-size-fits-all solution. If you are considering upper eyelid surgery in Delhi, schedule your consultation with Dr Rajat Gupta, a board-certified plastic surgeon in Delhi. He will evaluate your condition and provide personalized guidance.

Dr. Rajat Gupta
MBBS, MS, DNB(Gen. Surg.),
DNB (Plastic Surgery)
Dr. Rajat Gupta is a board certified plastic surgeon in India with 13 years of experience to back his expertise in the domain of aesthetic surgeries.
Having completed his training from Maulana Azad Medical College and equipped with a thorough understanding of aesthetic needs of people, Dr. Gupta strives to offer the best remedies and cosmetic procedures outfitted with the latest technology to the aspirants in India and across the globe. To book an appointment, call: +91-9251711711 or email: contact@drrajatgupta.com