Is Arm Lift Surgery Worth it?
Dr Rajat Gupta
"Bat wings"—extra skin and fat that drapes off the upper arms—are one of the most visible symptoms of age and weight swings. Bat wings can afflict women and men of various shapes and sizes, but they cannot be addressed through nutrition and exercise. Although the arm lift procedure is the most effective approach to get rid of them, individuals considering the treatment sometimes wonder if it is worth it.
The answer is based on your search parameters. Arm lifts are used for specific applications and have unique capabilities.
Keep reading the blog to understand what arm lift surgery is and how to maintain the results.
What Exactly is an Arm Lift Surgery?
An arm lift surgery, also known as Brachioplasty, is a bold lifting technique that cuts extra tissues and tightens loose skin and muscle on the upper arms between the elbow and shoulder. It is frequently coupled with liposuction to eliminate stubborn fat deposits and slim the arms even more.
The primary objective of the arm lift procedure is to improve the arm contours. Following the removal of loose tissues, the skin on the arms is tightened and stitched, making the arms seem more muscular and shaped.
Arm lift surgery is considered one of the most 'Worth It' procedures, with the highest patient positive rating. People frequently remark about feeling more confident and appealing following the surgery.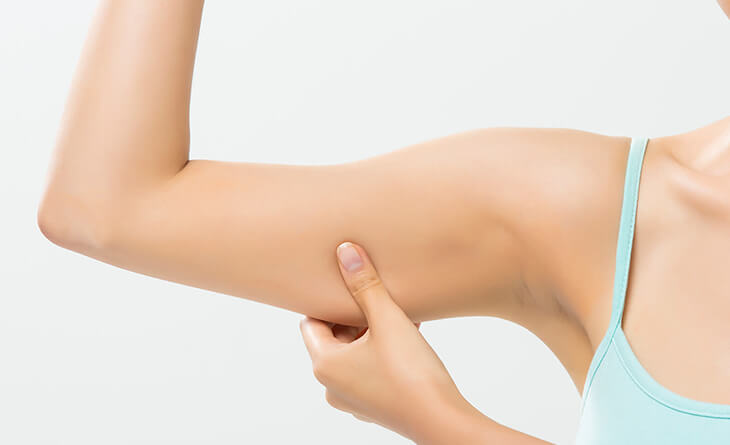 Have questions or want to get started? We are ready to help you with a smile!
Arm Lift Surgery: How to maintain the results?
Choosing a board-certified plastic surgeon for arm lift surgery is the first step toward impressive results. Dr Rajat Gupta, a board-certified plastic surgeon, takes great care while creating incisions to reduce scarring and deliver appropriate outcomes. He also directs patients toward the most effective medical-grade scar care. He provides extensive pre- and post-operative directions to ensure the best result of arm lift surgery in Delhi.
Arm lift surgery outcomes can persist for a decade or more if you adhere to a healthy lifestyle. Here are a few things that you can do to ensure the results last longer:
Maintain a balanced diet and workout schedule.
A good diet promotes skin elasticity and collagen formation, which is essential for retaining toned arms. You should plan a regular workout regimen combining cardio and strength training to help you lose weight and tone your arms.
Follow the proper scar aftercare practices.
Following the surgeon's aftercare directions can help to reduce scarring and extend the life of your arm lift surgery outcomes. Avoid using nicotine products and exposure to the sun, and use a silicone-based scar cream and sunscreen with a high SPF to reduce swelling.
Dr Rajat Gupta ensures that each patient receives personalised care and attention throughout the procedure, from consultation to surgery and beyond.
Conclusion
Dr Rajat Gupta engages closely with the patient during the consultation and throughout the procedure to implement their natural cosmetic desires into the arm lift procedure. Consequently, he can achieve highly coveted and appealing visual results more conservatively and efficiently.
Contact us right away at  +91-9251711711  to make an appointment with Dr Rajat Gupta and get all of your arm lift procedures questions answered.

Dr. Rajat Gupta
MBBS, MS, DNB(Gen. Surg.),
DNB (Plastic Surgery)
Dr. Rajat Gupta is a board certified plastic surgeon in India with 13 years of experience to back his expertise in the domain of aesthetic surgeries.
Having completed his training from Maulana Azad Medical College and equipped with a thorough understanding of aesthetic needs of people, Dr. Gupta strives to offer the best remedies and cosmetic procedures outfitted with the latest technology to the aspirants in India and across the globe. To book an appointment, call: +91-9251711711 or email: contact@drrajatgupta.com