Complete Guide to Brachioplasty/Arm Lift Procedure
Dr Rajat Gupta
Are you one of those persons who fantasise about wearing their loved sleeveless garment and crop top but are concerned about their arms' unattractive appearance?
It's time to put your troubles aside since we're here to assist you! – The solution is arm lift surgery. Keep reading to know how the arm lift procedure can be beneficial for you.
Introduction to Brachioplasty/Arm lift Procedure
Arm Lift surgery, also known as Brachioplasty, is a cosmetic procedure that removes extra skin and fat from the upper arms to contour and sculpts them. All the expert surgeons like Dr Rajat Gupta perform the surgery to remove fat pockets in the upper arm that are localised. It also improves the curve of the upper arm by tightening and smoothing the underlying supporting tissue.
Liposuction surgery and arm lift procedure are two cosmetic treatment choices for people who have flabby arms caused by excess skin and fat. However, both treatment methods differ significantly in terms of how they are carried out and who they are designed to benefit. Hence, it is crucial to figure out which solution is best for your situation!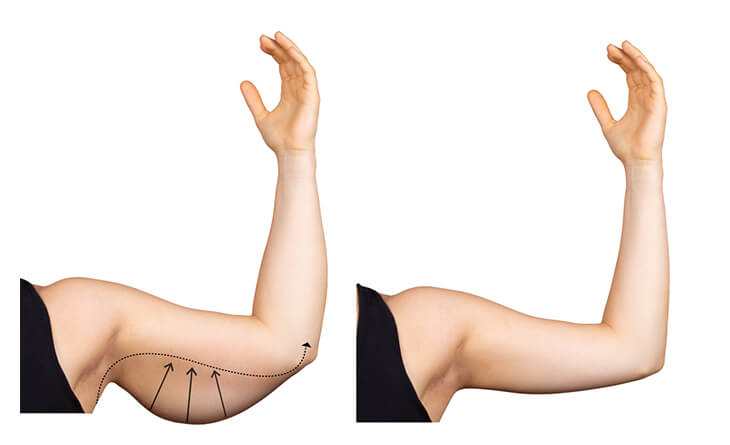 Have questions or want to get started? We are ready to help you with a smile!
Liposuction for Flabby Arms
Liposuction is usually the best solution if extra fat makes your arms look droopy or thick. Plastic surgeons highly recommend liposuction for fat removal, and it is routinely used to obtain a leaner and more beautiful arm form.
During arm liposuction, your surgeon will create small incisions on the arm and insert a small tube known as a cannula. The surgeon will move it back and forth to break the fat via cannula. The cannula is connected to a suction device that gently removes the unwanted fat. The arms seem flatter and firmer very immediately after surgery, with the benefits enhancing as the arms heal.
Liposuction won't leave any visible scars due to the small incisions made by the surgeon while using a cannula. Liposuction is excellent for patients having minor skin laxity since it removes fat but does not fix loose or sagging skin. Even if the fat in the arms is eliminated, the skin in the arms may remain the same. As a result, the Liposuction as an arm lift procedure is ideal for younger individuals who are confident in their tighter, more youthful skin.
Arm Lift Procedure for Flabby Arms
If you have slack, sagging skin on your forearms and small pockets of additional fat, the arm lift is the preferable option for you. Board-certified plastic surgeons can use it to shape and tone the upper arms from the armpit to the elbow since liposuction removes fat but leaves loose skin unaffected.
During an arm lift, incisions are made in the armpit region and continue down the inside of the arm. Expert surgeons make incisions and eliminate excess skin to tighten loose tissues. The surgeon uses liposuction techniques to remove localised fat pockets if necessary. The underlying skin is moulded more tightly over the decreased arm form.
Arm lifts are effective for those who have lost a significant amount of weight, particularly through weight loss surgery, and whose skin cannot constrict around their thinner arms.
When to go for Brachioplasty/Arm lift Procedure (good reasons)
It is good to go for Brachioplasty if you have the following goals in your mind:
Elimination of Excess Fat and Skin
The upper arms might be particularly bothersome for people who have recently dropped a huge amount of weight. Since fat accumulates itself in this location, the skin nearly always stays saggy when the fat is gone. This might make it difficult to discern if any weight has been shed.
One of the prevalent concerns among patients who have undergone surgical treatments to assist in weight reduction is that the skin on their arms droops and can seem ugly when the weight is swiftly lost. Many people choose Brachioplasty as the last step in reaching their body image objectives after bariatric surgery.
To Enhance Sculpt
Arms that are well-defined and curvy are appealing to everyone. Brachioplasty, which improves the shape and definition of the upper arm, adds aesthetic appeal more quickly than other alternative procedures of toning the region.
Brachioplasty can modify the tone and contour of your arms. The look of your upper arm can be substantially altered based on how the surgeon determines to tighten the skin and cut away unwanted fat deposits.
This is especially appealing for people who have always been self-conscious about the curvature of their arm between the arm and shoulder due to their heredity. Because the genetic shape is rarely susceptible to external circumstances, Brachioplasty offers a once-in-a-lifetime opportunity to develop choices.
To Get More Appropriate Shape and Size 
One of the most common concerns concerning arm form is that the upper arm seems abnormally huge compared to the forearm. Brachioplasty may be an option if you believe your arms are not aligned appropriately.
The upper arm is reduced and compressed during this treatment to provide a more proportional look compared to most of the arm and shoulder. It is typically simpler to keep conviction in your overall look when your arm's dimensions appear more proper.
To Enhance Your Physical Well-Being
The problems associated with carrying extra skin are similar to those associated with wearing big garments. When your arms are pushed inside your clothing, you may experience pinching or overall discomfort. If the skin creases in an unpleasant way when sleeping, it might cause issues.
Brachioplasty can help you feel more comfortable by removing extra skin and minimising the pain that is commonly linked with excess folds or wrinkles in the upper arm area due to drooping skin.
Gaining Self-Conviction
The upper arm is frequently associated with a poor feeling of self-esteem. It is difficult to feel confident if one feels self-conscious about their appearance. Finding a method to feel good about the way you appear is the quickest approach to overcoming negative sentiments.
Arm lift procedure is one approach to resolve a body image problem and feel more confident about your look in the future. Short-sleeved shirts and tank tops are fashionable alternatives, but they're typically overlooked due to concerns about how they'll appear on the upper arms. If you want to add more exposing items to your wardrobe, Brachioplasty can let you get the confidence you need to go to another level.
When to not go for Brachioplasty/Arm lift Procedure (bad reasons)
First Reason – Potential Risks Associated with the Surgery
Those patients who are not mentally and physically ready to go through the potential risks mentioned below are not good for Brachioplasty surgery.  Just like every other surgery, there are risks associated with the arm lift procedure. Before you decide whether to proceed with arm lift surgery, also known as Brachioplasty, your specialist will go over the potential risks.
Naturally, if your doctor felt the operation was not safe for you in particular, they would advise against having it. The Brachioplasty is a rather simple procedure with few hazards.
Second Reason – Arm Lift Surgery Cost
When you choose surgeries like an arm lift, you may go through several steps of physical tests and many more, which may influence the entire arm lift surgery cost. Those who are not financially ready for the surgery are not good for Brachioplasty surgery. However, you can wait and save for a few months untill you're ready for the surgery.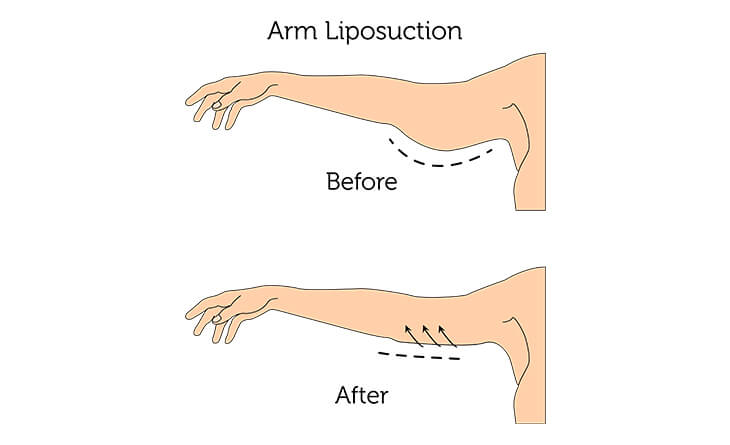 Who is the Ideal Candidate?
The Brachioplasty procedure is not right for everyone. You must first decide if Brachioplasty is the best procedure for your specific needs if you are thinking about having it done.
Following are the ideal candidates for the arm lift procedure:
Non-Diabetic Patient
Diabetes presents factors that must be properly considered while evaluating the overall healing process after the treatment, even if it is not a direct disqualifier for Brachioplasty. It's crucial to bring up any glucose concerns you may have before the surgery because diabetes has been reported to interfere with the body's capacity to recover. This will help your doctor develop a care plan that will assure your recovery runs as smoothly as possible and provide them with a better knowledge of your unique requirements.
People with Ideal Body Weight
The majority of upper arm skin-tightening problems have a history of poor weight management. Following an arm lift, rapid weight development or decrease might reverse the effects. For this reason, before the treatment, your doctor will want to ensure that you are at a strong and safe weight.
If your weight has been inconsistent or is not yet at a steady range, your surgeon may advise you to wait before the treatment is planned. Although this may be distressing, it is necessary for your health and successfully completing the Brachioplasty procedure.
Positive Vision and Realistic Goals
During your consultation, your surgeon will address your queries and objectives regarding the surgery. It's crucial to make sure you know everything there is to know about what to anticipate from the process before booking your appointment for the arm Lift procedure.
The most important factor in assessing your eligibility will know that you are clear about the achievable results, any difficulties you may face, and that you are approaching this information positively.
Not a Smoke Addict
Your body's circulation might be impacted by smoking. As a result, if you smoke frequently and heavily, we might have some doubts about operating on you. The most successful arm lift patients are often those who do not smoke at all.
However, smoking does not automatically disqualify someone. For your doctor to accurately analyse the potential risk factor resulting from your cigarette consumption, you must be open and honest with them about your smoking. Your doctor will then be able to talk about suggestions and anticipations regarding the surgery.
While none of these criteria is necessary to establish your suitability for Brachioplasty, they should serve as a starting point for your discussion of the procedure's potential benefits with your surgeon's team.
Conclusion
There are a few things that you should discuss as a responsible human when you visit us to talk about Brachioplasty as a possible treatment.
Dr Rajat Gupta will first discuss your surgical goals to determine if you have realistic expectations for the procedure's result. The next step is to talk about any medical issues, past operations, or lifestyle choices that could have an impact on the result.
Additionally, your surgeon may ask you to do a quick physical exam and perhaps some blood tests to assess your present state of health. In addition to preparing the treatment and discussing the probable outcomes, you may likely be requested to pose for photos.
You shouldn't be reluctant to ask questions during your appointment because this is the opportunity to learn as much as possible before the surgery. Never be embarrassed to ask any questions. It is never considered a stupid question when it comes to taking care of your well-being.
Your outcomes will be immediately apparent after the operation. You may make sure that these outcomes are lovely and long-lasting by carefully adhering to the aftercare guidelines provided by your surgeon.
Schedule your appointment with Dr Rajat Gupta!
Book a consultation with Dr Gupta if you're considering getting an arm lift to learn more about the operation and find out whether Brachioplasty is the best option for you. Dr Rajat Gupta's friendly team will gladly answer any inquiries you may have.

Dr. Rajat Gupta
MBBS, MS, DNB(Gen. Surg.),
DNB (Plastic Surgery)
Dr. Rajat Gupta is a board certified plastic surgeon in India with 13 years of experience to back his expertise in the domain of aesthetic surgeries.
Having completed his training from Maulana Azad Medical College and equipped with a thorough understanding of aesthetic needs of people, Dr. Gupta strives to offer the best remedies and cosmetic procedures outfitted with the latest technology to the aspirants in India and across the globe. To book an appointment, call: +91-9251711711 or email: contact@drrajatgupta.com