Buccal Pad Removal – Less Fuller Cheeks For A Sleek Face!
Dr Rajat Gupta
If you have been wanting Buccal Pad Removal Surgery in Delhi, read on:
You are very good looking but your overtly fuller cheeks ruin your looks and your smile?
You have a fit body but your face is bigger than what it should be and it makes you look big too?
You often feel embarrassed to put your favourite make-up because your big cheeks make it look odd?
If you are answering any of these questions in yes, then perhaps you need a help called "Buccal Pad Fat Removal"!
Yes, it is an innovative surgical method to get rid of fuller cheeks which are becoming an obstacle in pronouncing your good looks.
At RG Aesthetics, we have this amazing cosmetic procedure available for you, which can be done in less than an hour and you can go back to normal life, looking better and presentable just the way you want.
How do we define Buccal Pad Fat Removal surgery?
A Buccal Pad Fat removal procedure involves cosmetic surgery through which excessive buccal pad fat tissues are removed from the facial cheeks area. The buccal pad fat is often present in the oral cavity, making the cheeks look fuller. As a result of which the cheeks area of the face grows in size and appears protruding, making a person's face look disproportionate. That is a sheer effect of buccal pad fat. The surgery gives a proportionate and aligned symmetry to the face.
Even regular exercises cannot make this fat go away because it is embedded to the superficial layer of the skin. It makes the face look even saggier as a person ages. It is because this layer of fat loosens with maturity. Here, a cosmetic surgery is always recommended to get the fatty tissues removed and allow more room for tightening of skin around the cheek area.
At RG Aesthetics we recommend considering a Buccal Pad Fat Removal surgery in following scenarios:
When your face looks disproportionate due to excessive fat in both your facial cheeks.
When you smile create protruding curves on both the cheeks.
If you've received no benefits from facial liposuction and there's no face slimming.
When don't want saggier face after losing that extra fat from your face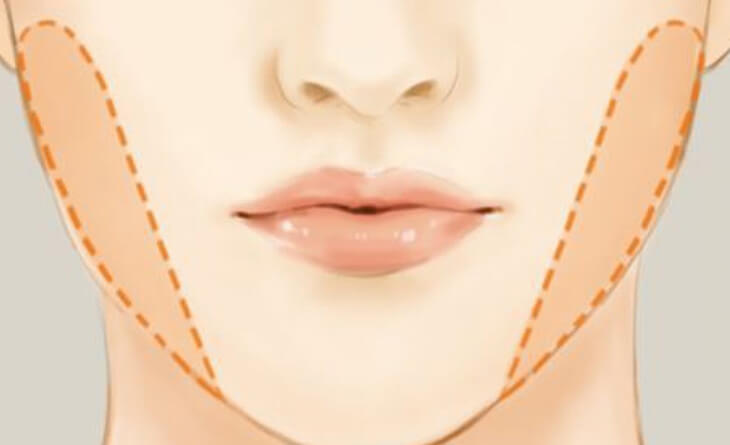 Have questions or want to get started? We are ready to help you with a smile!
How is the surgery done?
At RG Aesthetics we are interested about your health and are resolved to give you the looks that you need. While keeping the practical objectives in centre, we carry out every method under the superintendence of Dr. Rajat Gupta, who is regarded as India's best plastic surgeon with numerous honours added to his repertoire. He is certified by the national board and accompanies noteworthy experience.
A general or local anaesthesia is used while performing Buccal Pad Fat Removal, according to the patient's condition. After anaesthesia is given, surgeons give an incision of around 1/2cm at the buccal mucosa which is inside the oral cavity of the patient. This cut goes to the site of fat removal from the cheeks. Additional pressure is applied to the external surface of the cheeks, pushing the buccal fat cushion to protrude within the mouth. The required amount of tissue is separated from this projected cushion, leaving the cheekless puffy and more proportionate.
The cut is then shut with the assistance of sutures and left to recuperate alone which as a rule occurs in only couple of days. The whole surgery takes just 30 minutes.
What precautions to take during recovery?
The downtime for Buccal Pad Fat Removal isn't more than 2-3 days. Patients feel completely recuperated after that. After few hours, liquid and soft food is permitted. Foods that are difficult to chew like crude vegetables, natural products, or nuts must be avoided at least for one-week post surgery.
Despite all, if you have any questions in regards to the procedures involved before the surgery, take a consultation session with Dr. Rajat Gupta and have every question answered.

Dr. Rajat Gupta
MBBS, MS, DNB(Gen. Surg.),
DNB (Plastic Surgery)
Dr. Rajat Gupta is a board certified plastic surgeon in India with 10 years of experience to back his expertise in the domain of aesthetic surgeries.
Having completed his training from Maulana Azad Medical College and equipped with a thorough understanding of aesthetic needs of people, Dr. Gupta strives to offer the best remedies and cosmetic procedures outfitted with the latest technology to the aspirants in India and across the globe. To book an appointment, call: +91-9251711711 or email: contact@drrajatgupta.com