PURE – A Combination of Assisted Body Sculpting Techniques, Founded by Dr. Rajat Gupta
Dr. Rajat Gupta is a board-certified plastic surgeon in India with years of experience to back his expertise in the domain of cosmetic surgeries. Having completed his training from Maulana Azad Medical College and equipped with a thorough understanding of aesthetic needs of people, Dr. Gupta strives to offer the best remedies and ground-breaking procedures outfitted with the latest technology to the aspirants in India and across the globe.
His recent innovation is PURE – A combination of assisted body sculpting techniques wherein:
P is Power Assisted Liposuction
U is Ultrasound Assisted Liposuction
RE is Radiofrequency Enhanced Contouring
This, one of its kind merger of three highly sophisticated techniques is a first-ever progress in the field of cosmetic surgery, introduced by none other than Dr. Rajat Gutpa. PURE contouring is a paradigm shift in the concept of body contouring because it combines Power Assisted Technology, Ultrasound Assisted Technology and Radiofrequency assisted Skin Tightening Technology.
Here is how the procedure is performed at RG Aesthetics to get the best benefits out of it.
P – Power Assisted Liposuction using MicroAire
MicroAire is a power-assisted liposuction (PAL) technique devised to reduce the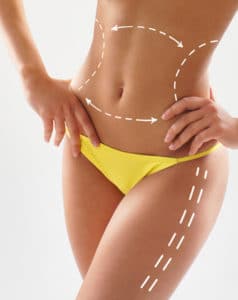 physical challenges posed by traditional liposuction. For any area in which contouring is to be done, whether it is abdomen, buttocks, thighs or arms, there is an excess amount of fat mostly, that needs to be sucked out. The procedure is initiated by tumescent fluid infiltration which can be done using syringes or infiltration pump. At RG Aesthetics, we have improvised further and this first step is achieved by combining power-assisted device MicroAire with a pressure infiltration pump connected through it. The surgical instrument used for MicroAire is fitted with a power-assisted cannula that produces an extremely gentle back and forth movement, which helps it to pass through the toughened fibrous tissues of fat with ease creating different spaces and multiple planes between the fat layers. This enables a very smooth distribution of the tumescent fluid across the fat layers in different planes making the surgery easier also minimizing blood loss and pain.
After fat emulsification (detailed below) the next step in the procedure is suctioning out the emulsified fat which can be done manually or using power assisted devices. RG Aesthetics uses MicroAire again for this step. It offers a great precision to the procedure while reducing the amount of effort required to probe in. This power assisted device is attached to a suction apparatus which generates negative pressure to suck out the emulsified fat. One of the imperative benefits of this technique is that the adjacent tissues subjected to liposuction are not torn apart and hence recovery is faster and better. MicroAire is undeniably an important element of PURE as it comes with added benefits.
Have questions or want to get started? We are ready to help you with a smile!
U – Ultrasound Assisted Liposuction using Vaser
After tumescent infiltration, the next step in the procedure is fat emulsification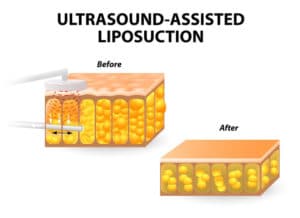 which can be done by multiple methods described in previous chapters (manual, power assisted, ultrasound assisted, laser assisted etc). At RG Aesthetics, this imperative step is accomplished usingultrasound-assisted liposuction (VASER). Vaser emulsifies the fat layer only, without hitting the nerves or vessels. The ultrasound rays selectively target the fat cells, so that the fat gets emulsified. Along with that, Vaser also helps in skin shrinkage and tightening. Vaser generates lots of heat and if performed by an untrained or inexperienced surgeon, may cause skin burns. This is because in Vaser device, there is no self regulated temperature control and it depends on the expertise of the performing surgeon who knows when to withdraw the device at a particular area.
Since the surgeons at RG Aesthetics combine technologies, they make sure that Vaser is used only for a specific amount of time to achieve both fat emulsification and skin tightening. Further fat breakdown and simultaneous suction is performed using the MicroAire device. The most dreaded complication associated with Vaser is skin burns which is probably because surgeons using Vaser alone tend to use it for a longer period for better fat emulsification. This is safely avoided at RG Aesthetics by combining MicroAire with Vaser.
MicroAire and Vaser liposuction techniques combined together work perfectly well for sculpting the body areas like the abdomen, arms, leg, waist, neck, knees, buttocks, thighs, side handles, ankles, calves and male breasts. With the combination of these technologies, the trauma to the tissues, nerves and vessels is reduced significantly. This minimizes the pain and, also the swelling and bruising after the procedure is considerably less.
RE – Radiofrequency Enhanced Contouring using Thermi/BodyTite
After the Liposuction procedure, surgeons perform RF enhanced contouring for skin tightening. Radio Frequency or RF energy is well researched and proven successful for aesthetic treatments. RG Aesthetics uses BodyTite, an advanced technology product of ThermiGen, for skin tightening and smoothening procedures. ThermiBodyTite is a radio frequency-based skin-tightening device. BodyTite is an extremely sophisticated technological device that emits continuous waves of heat generated by radio frequency that helps to stimulate the collagen production. BodyTite ensures continuous emission of heat and the intelligent software used in the background ensures a regulated flow as per the monitoring surgeon. This advanced method of contouring where a small electrode heats skin tissue to a clinician-selected temperature helps to tighten the skin, reduce the wrinkles considerably and enhance the overall appearance of the skin in various areas such as the neck, arms, breasts, abdomen, thighs and knees. The results are primarily attained by the remodelling of subcutaneous tissue.
Radio Frequency Enhanced Contouring can be achieved by two methods:
THERMISmooth reverses the signs of ageing and is conducted through controlled, noninvasive dermal heating that smoothens the skin producing natural-looking results. The equipment used for the procedure is BodyTite, that gently heats the skin's surface to a scientifically determined temperature and helps the skin tissues to relax. A series of 3 to 6 treatments over a period of 6 to 9 weeks are required to treat the skin on the forehead, eyes, cheeks, mouth, and neck and body.
THERMITight is a procedure that helps to regenerate the lost collagen by releasing RF energy and tighten the skin post liposuction or otherwise too. During this procedure, the cannula goes beneath the skin and heats the skin. This heating is temperature controlled. The device is connected to an infrared camera making it possible for the surgeon to see in which plane the cannula is and at what temperature the cannula is reaching the fat layer and the skin.
These combined procedures that effectively address sagging and loose skin are minimally invasive and non-surgical and come with a manageable downtime. The upside of THERMItight is that the patients who are trying to get rid of minor laxity of skin and are not willing to undergo liposuction can opt for it and get the benefits of minor tightening and contouring. The fact to be noted is that THERMItight without liposuction works on the areas where shrinkage of skin is comparatively lesser such as thighs and arms. The standalone procedure is performed under local anaesthesia. If it is combined with liposuction, then it is performed under general anaesthesia. It takes 15-20 minutes to treat each area under consideration if only THERMItight is performed for the area. In combination with liposuction, it takes around 1 to 1 and a half hours.
For major laxity of skin, where better sculpting and contouring is required, the procedure is combined with liposuction, tummy tuck and other reconstructive procedures as per the target area.
With PURE CONTOURING, surgeons at RG Aesthetics are able to achieve removal of excess fat as well as skin tightening without any tissue trauma, or trauma to the vessels. This ensures that there is no skin hanging loose after the liposuction.
PURE Contouring is a paradigm shift in the world of body contouring. It gives the results that no other procedure can achieve with minimal downtime and hardly any scars.
PURE is a pioneering and helpful technique developed by Dr. Gupta to bring optimum utility to the patients looking for better results from body sculpting procedures. It is helping a number of people across the nation to address skin laxity effectively and win over ageing to have renewed emotional well-being, quality of life and a better self-esteem.

Dr. Rajat Gupta
MBBS, MS, DNB(Gen. Surg.),
DNB (Plastic Surgery)
Dr. Rajat Gupta is a board certified plastic surgeon in India with 10 years of experience to back his expertise in the domain of aesthetic surgeries.
Having completed his training from Maulana Azad Medical College and equipped with a thorough understanding of aesthetic needs of people, Dr. Gupta strives to offer the best remedies and cosmetic procedures outfitted with the latest technology to the aspirants in India and across the globe. To book an appointment, call: +91-9251711711 or email: contact@drrajatgupta.com