The procedure is 3-fold since it involves taking fat from one part of the body and inserting it into another. It is performed under local anesthesia and is a daycare procedure. It requires isolation of the donor sites so that fat can be safely removed.
Its desirability stems from the safety of fat grafting since it takes fat from your own body. This prevents any likelihood of your body rejecting it. Therefore, a lot of surgeons, including ours, believe this is the best path for facial enhancement.
Step One: Removing the Fat
The first step is identifying a donor site with enough excess fat. Using the advanced MicroAire and VASER liposuction tools at RG Aesthetics, we remove the fat from the region. These advanced tools are minimally traumatic, contributing to a much faster recovery.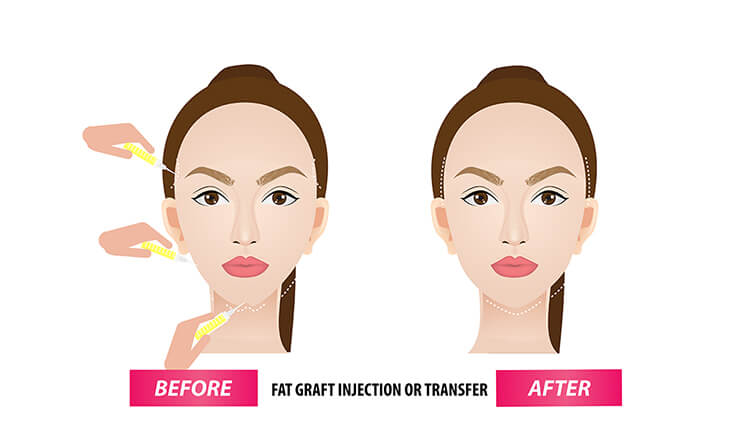 Have questions or want to get started? We are ready to help you with a smile!
Step Two: Isolating the Fat Cells
MicroAire and VASER allow for a much higher percentage of fat cells to be saved. This means that a high percentage of fat can be treated and reused during the fat grafting procedure.
Step Three: Re-Injecting the Fat
Following this treatment, the fat is re-injected into the cheeks and any other sunken parts of the face. These are called the recipient sites – spots identified by our surgeons that require corrections. Accordingly, you get the full, proportionate face you desire.

Dr. Rajat Gupta
MBBS, MS, DNB(Gen. Surg.),
DNB (Plastic Surgery)
Dr. Rajat Gupta is a board certified plastic surgeon in India with 10 years of experience to back his expertise in the domain of aesthetic surgeries.
Having completed his training from Maulana Azad Medical College and equipped with a thorough understanding of aesthetic needs of people, Dr. Gupta strives to offer the best remedies and cosmetic procedures outfitted with the latest technology to the aspirants in India and across the globe. To book an appointment, call: +91-9251711711 or email: contact@drrajatgupta.com