The dimple creation surgery is straightforward and completely scarless. The scar is completely hidden because your surgeon makes the incision on the inside of your cheek. This contributes to the naturalness of the final results.
After making this incision, depending on where you want the dimple, a suture is passed through. This connects your skin to the underlying muscle, creating the dimple.
Enhancing the Dimple
For a deeper, more enhanced dimple, we remove a small chunk of soft tissue. The sutures are dissolvable, meaning you do not have to come back to get them removed.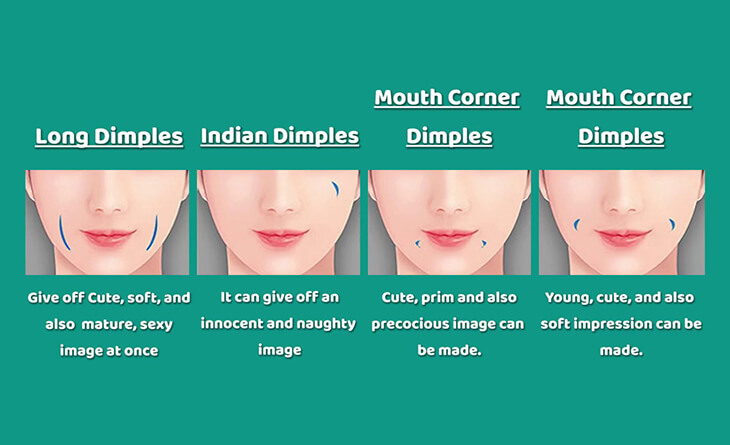 Straightforward and Simple
Dimple creation is a safe and straightforward daycare procedure with minimal complications. It only takes 30 minutes, and you can go home surgery. You are fit to resume your daily activities from the next day itself.
Have questions or want to get started? We are ready to help you with a smile!
Dimple Removal
For dimple removal, the skin is surgically separated from the underlying muscle in this procedure. Sometimes this results in a slight depression. Luckily, this can easily be removed with fillers.
This way, you can get dimples both created and removed. In both surgeries, there is minimal scarring, and none of it is visible. The results are entirely as per the patient's request.
What can I expect from the surgery?
Dimple creation surgery takes about 30 minutes to perform. You can expect to go home right after the procedure and continue with your routine the next day.
Dimple creation is a safe and straightforward procedure, with minimal complications. However, it is also somewhat reversible, depending on some variables.
A little swelling and bruising can be expected. It is also necessary to take antibiotics for some days after the procedure.
It will take anywhere from a couple of days to a couple of months for surgically made dimples to look natural. At first, the dimple will be visible when you are not smiling.
Facial movements might at first be slightly hindered and impaired. It is advisable to restrict activities and sleep with your head elevated for the first couple of days.
You can decide where and how deep you want your dimple to be. You can also decide if you want just one or two dimples.

Dr. Rajat Gupta
MBBS, MS, DNB(Gen. Surg.),
DNB (Plastic Surgery)
Dr. Rajat Gupta is a board certified plastic surgeon in India with 10 years of experience to back his expertise in the domain of aesthetic surgeries.
Having completed his training from Maulana Azad Medical College and equipped with a thorough understanding of aesthetic needs of people, Dr. Gupta strives to offer the best remedies and cosmetic procedures outfitted with the latest technology to the aspirants in India and across the globe. To book an appointment, call: +91-9251711711 or email: contact@drrajatgupta.com