At RG Aesthetics, we are concerned about your well-being and are committed to giving you the looks that you want. While keeping the realistic goals in focus, we perform all the procedures under the supervision of Dr. Rajat Gupta, who is considered to be India's best young plastic surgeon with many accolades under his belt. He is board-certified and comes with a remarkable experience.
Buccal Pad Fat Removal is performed under general or local anesthesia, recommended as per the patient's condition. After the administration of anesthesia, about 1/2 cm incision is given at the buccal mucosa, which is inside the oral cavity of the patient. This hides the scar so that the results look completely natural.
This incision acts as the site to extract fat from the cheeks. The pressure is applied to the outer surface of the cheeks, pushing the buccal fat pad to protrude inside the mouth. The required of tissue is extracted from this protruded pad, leaving the cheek size reduced and proportionate to face.
The incision is then closed with the help of sutures and left to heal on its own, which usually happens in just a few days.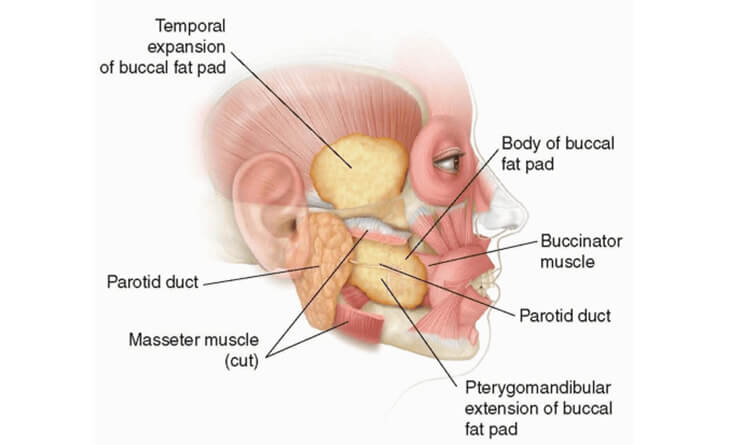 Have questions or want to get started? We are ready to help you with a smile!
What are the Results from Buccal Pad Fat Removal Like?
The entire procedure takes only 30 minutes. You can have soft food or liquid food for six hours. After a week, you can resume solid food.
Within these 30 minutes, you get excellent, long-lasting results with no visible scar. Therefore, the placement of the scar and technique of removal ensures you get a symmetrical and gorgeous face!

Dr. Rajat Gupta
MBBS, MS, DNB(Gen. Surg.),
DNB (Plastic Surgery)
Dr. Rajat Gupta is a board certified plastic surgeon in India with 10 years of experience to back his expertise in the domain of aesthetic surgeries.
Having completed his training from Maulana Azad Medical College and equipped with a thorough understanding of aesthetic needs of people, Dr. Gupta strives to offer the best remedies and cosmetic procedures outfitted with the latest technology to the aspirants in India and across the globe. To book an appointment, call: +91-9251711711 or email: contact@drrajatgupta.com