Dr. Sumit Gupta
Consultant Dermatologist,
Vitiligo Specialist & Aesthetic Physician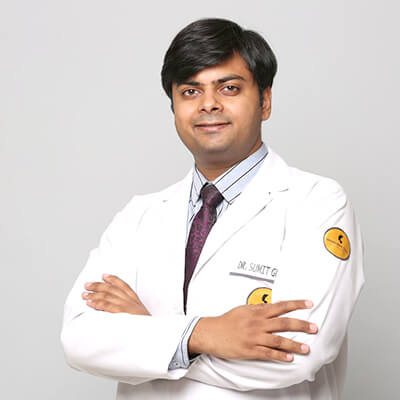 Dr. Sumit Gupta is a Consultant Dermatologist, Vitiligo Specialist, and Aesthetic Physician at RG Aesthetics. He has completed his MBBS (Medicine) and MD (Dermatology) from the reputed Maulana Azad Medical College affiliated with the University of Delhi. His interest in pigmentary disorders started when he was pursuing his degrees. He is a Gold Medalist and was awarded Pyarelal Sharma & Bishan Devi Gold Medalfor best clinical dissertation by the University of Delhi.
In addition to being a highly skilled and experienced physician, Dr. Sumit Gupta has numerous other achievements under his belt. Being a gold medal-winning researcher, he had presented his work at the World Congress of Dermatology in Vancouver in 2015. At the same conference, the title of 'WCD- Rising Star' scholarship was given to him by the International Society of Dermatology.
Besides being adept at what he does, he has further honed his skills under different Vitiligo specialists spanning across the globe. University of Ghent, Belgium is one of the places where he was duly invited to research under the distinguished Professor Nanja Van Geel.
Dr. Gupta also trained for facial injectablesunder Dr. Koenraad de Boulle, at Aalst, Belgium. There are more feathers in his cap. He has been given the 'Award of Appreciation' for being the Editor of the IADVL Resident's News Bulletin at the 43rd DERMACON and for being a part of an organizational team of the 1st PIGMENTARYCON, 2013.
His credentials are astounding while being affiliated to numerous organizations such as:
Indian Association of Dermatologists, Venereologists& Leprologists (IADVL)
Delhi Aesthetic Education Group
Pigmentary Disorders Society (PDS)
Nail Society of India (NSI)
Dr. Gupta hopes to keep working for his patients while applying his expertise to each and every procedure & treatment. He has achieved good accountability and repute for treating patients with the latest technology.