Dr. Sanchaita Kohli
Oral and Maxillofacial Surgeon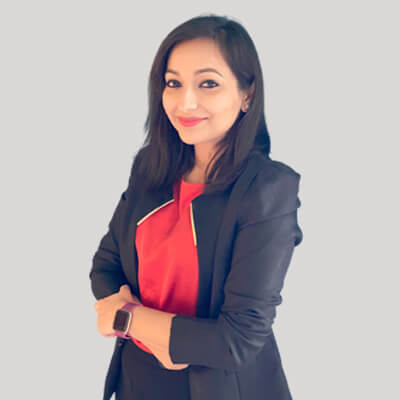 Dr. Sanchaita is an Oral and Maxillofacial surgeon. She has more than 13 years of training and work experience from India's premier dental institute Maulana Azad Institute of Dental Sciences. Being a gold medalist in MDS Oral and Maxillofacial surgery, her skills and clinical judgment is unparalleled.
Throughout her career, she has strived to achieve excellence and be at the top of her work. In her years of training and practice, she has worked along with experienced maxillofacial surgeons, plastic surgeons, neurosurgeons, and ENT surgeons.
She is a certified ATLS Provider by the American College of Surgeons. She is experienced in rapidly and efficiently handing patients with emergency trauma as per international standards.
She is certified in managing patients of craniomaxillofacial trauma by AOCMF, one of the largest international centers for trauma and osteosynthesis and is based in Switzerland.
Dr Kohli is one of the few surgeons to perform Total Joint Replacement for Temporomandibular Joint (TMJ)  in India using surgically as well as minimally invasive techniques.
Dr.Sanchaita specializes in various forms of facial deformities using 3D simulation software that allows patients to see the surgery results before undergoing the surgery. This helps her customise the treatment plan to match the expectations of the patients.
Of all the above specialities, another main USP of Dr. Kohli is her technique in which she uses custom cutting guides and patient-specific implants. This not only shortens the duration of the surgery, but also the downtime after the surgery.
She has also completed various orthognathic surgery courses, orbital surgery, and the prestigious course in cancer and reconstructive surgery under Dr. Saidul Islam.
Belief system and techniques
Her belief system is to build up a good rapport with her colleagues and her patients. She believes in giving best treatments for her patients and prefers following minimally invasive procedures where possible. All her surgical procedures, such as complex ones like Total Joint Replacement for Temporomandibular Joint, are carried out through intricate planning and the use of the latest technology.
She has a specialization intending towards different facial deformities. Using simulation software and 3D printed models enable patients to imagine the surgical outcome before surgery, which helps to more precisely customize the care plan according to the patients' wishes. Her use of personalized cutting guides and patient-specific implants shortens the surgeries and, thus, the downtime of the overall operation. Her surgery methods use advanced surgical lasers, custom cutting guides, and piezosurgery.
Dr. Sanchaita has published over 14 indexed publications, including a number detailing new surgical procedures and many others in the pipeline. She collaborated with the Indian Council of Science, and Industrial Research on a research project on patients with Obstructive Sleep Apnea treated with Mandibular Distraction Osteogenesis.